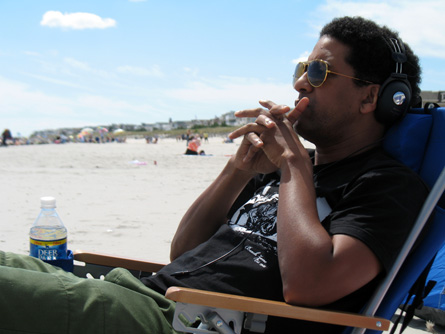 Faz flew in on Thursday on his way to Paris for a tradeshow, so we picked him up and took him right into Philly for a quick round of shopping. First on the list was to get him a real cheesesteak, something not possible outside of southeastern PA / nearby NJ.

While we were out shopping, Tara got me a pair of the kickass new Gonzales shoes for our upcoming anniversary.

Then we headed out to the beach to get Faz a weekend of relaxation, cocktails, and MySpace updates. Bird met us down there the next morning. By noon we found ourselves at the liquor store across the street, and the other 3 idiots (Tara, Faz, and Bird) agreed to a contest of drinking six packs. They were already getting loud before the first drink, so I stepped aside. Tara, feeling cunning, bought a miniature 6 pack of 8oz Budweisers which she could barely finish. I kept them company with a bottle of whiskey, and by 1:00 everyone was hammered and Faz had already thrown up. This is him, wasted. I can never get enough of listening to Faz, but after a few drinks it's even better.
We surfed some small waves which turned out to be fun. Today there was a huge pod of dolphins swimming around in circles, and when you first catch this glimpse out of the corner of your eye, it's never relaxing if you're in the water:


We also saw bunches of creepy birds swarming houses…